DORADO SCHMITT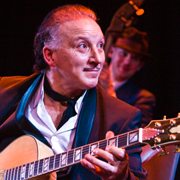 Dorado Schmitt is a legendary Manouche gypsy guitarist from the Strasbourg region of France. Schmitt started coming to the United States in 2002 and has been a star attraction at major festivals and at Birdland in NY, home of the Django Reinhardt NY Festival. He has played alongside some of the U.S.'s most important jazz artists, including James Carter, Paquito D'Rivera, George Benson, Joe Lovano, Harry Allen and so many others.
Schmitt, a Django look-alike with his pencil thin mustache, gifted on the guitar and violin, suffered a terrible accident years ago, just as Django Reinhardt did in his life. Dorado's was a car accident that put him in a coma for a long time and damaged his body, but he miraculously recovered. Django lost two fingers in a fire in his caravan which led to the incredible style of music he created due to his special fingering on the guitar. Dorado carries on the legacy of Django with the help of other gifted musicians and is a legend of gypsy jazz.
He became famous to the general public thanks to his appearance in the film Latcho Drom, telling the real story of the Rom people moving from India to the Atlantic and Mediterranean coasts.
Schmitt was born in St-Avold, Lorraine, on May 29, 1957 and was surrounded by musicians throughout his youth, in particular his father. He picked up the guitar at age 7. At around 15 years old, his musical taste went towards pop and rock music by Santana or Jimmy Hendrix. But in 1978 he created the Dorado Trio, with fellow musicians Gino Heplays on violin and Hono Winterstein on guitar. He went on to play alongside the greats Bireli Lagrene, Sochelo Rosenberg and so many more. Dorado stands as one of the most in-demand gypsy jazz artists in the business, playing with musicians in this style all over the world. Schmitt was recently featured at Carnegie Hall's "Forever Django" Concert.
---
SAMSON SCHMITT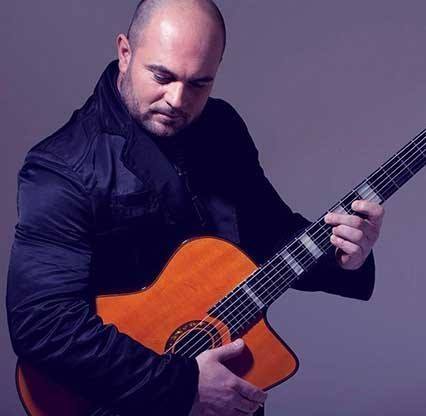 Samson Schmitt (Lead Guitarist), born on September 20, 1979, learned how to play guitar with his father Dorado. He played in public for the first time, at age 12, at the International Jazz Festival in Munich, Germany. Mr. Schmitt is influenced by George Benson, Richard Galliano, Bireli Lagrene, Toots Thielemans, Florin Nicaulescu, Didier Lockwood, Sylvain Luc, Dominique DiPiazza, and Angelo Debarre. From 1990–99 he played with the Dorado Schmitt Quintet, the group Kakiweiss (rhythm guitar), and with Hono and Gino Reinhardt. In 2000 and 2001 he played with Alexandre Cavalieres, Tchavolo Schmitt, Povro Sinto, Angelo Debarre (Corsican Trio), Jimmy Rosenberg, and with his own group the Samson Schmitt Quartet. He has played in many festivals as well as participated in Nuits de la Guitar in Partimonio, Corsica, where he invited Dominique DiPiazza (July 2002) and in the Festival Sons D'Hiver in Paris (2002), invited by his father Dorado Schmitt. In 2002 he recorded his first CD Djieske. Currently, he travels around the world with his own Gypsy Jazz Band as well as touring with his father. Mr. Schmitt is a permanent leading member of the Django Festival All-Stars, touring the U.S. for many years at major venues such as the Kennedy Center and the Hollywood Bowl. Schmitt recently appeared at Carnegie Hall's "Forever Django" concert.
---
PIERRE BLANCHARD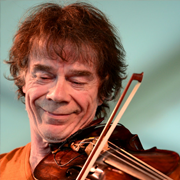 Pierre Blanchard, also from France, is a violin virtuoso. He also teaches at some of the top universities in France. Trained at a very high level in classical music, composition and arrangement, he began his jazz career performing and recording for five years with the Martial Solal Big Band as Violin Solo. Invited to perform with S. Grappelli, he received from him « Michel Warlop's violin ».
Pierre performed also all around Europe with Vince Mendoza, Michel Legrand, Toots Thielemans, Lee Konitz, Jacky Mc Lean, Max Roach, Billy Higgins, Ornette Coleman, Jean-Luc Ponty, Gotan Project…
Pierre has been performing at the Django Reinhardt Festival at Birdland and touring in the United States for many years now, playing with the Dorado Schmitt Allstars.
Born in 1956 à Saint-Quentin (France)
Pierre Blanchard also performed with : Stéphane Grappelli, Martial Solal, Jean-Luc Ponty, Lee Konitz, Ornette Coleman, Jackie Mc Lean, Max Roach, Bob Mover, Larry Schneider, Jasper Van't Hof, Billy Higgins, Toots Thielemans, Vince Mendoza, Philippe Catherine, André Ceccarelli, Manu Katché, Gotan Project…
---
LUDOVIC BEIER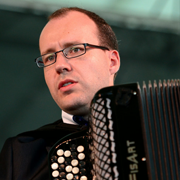 Ludovic Beier, from Paris, has been a regular at the Festival on accordion and accordina, a very interesting instrument sometimes called a mouth accordion. He performs at major festivals all over the world alongside the greats of jazz. Born in 1978, jazz musician at heart since his childhood, Ludovic Beier is passionate about its "west-coast." Il découvre ses idoles (Chick Corea, George Duke, Charlie Parker, He discovered his idols (Chick Corea, George Duke, Charlie Parker, Miles Davis, George Benson…) qui l'influencent au cours des années de sa formation musicale. Miles Davis, George Benson …) that influence during the years of his musical training. In Europe, he played alongside the legendary guitarist Angelo Debarre which marked the beginning of his career as a jazz musician, and the rest is history. He traveled to NY to perform at Birdland, where he had an opprotunity to perform with Dorado Schmitt, Samson Schmitt, Tchavolo Schmitt and many great American Jazz greats, James Carter, Paquito D'Rivera et Frank Wess. He has recorded many CD's, the latest "Come Into My Swing". He the opportunity to perform at Carnegie Hall at the MAGIC OF TOOTS, Tribute to Toots Thieloemans alongside Herbie Hancock, Eliane Elias, Ivan Lins and others.
Plays the accordina as well ..Downbeat says .."Reminicent of Toots Thielemans at his zenith "
---
AMATI SCHMITT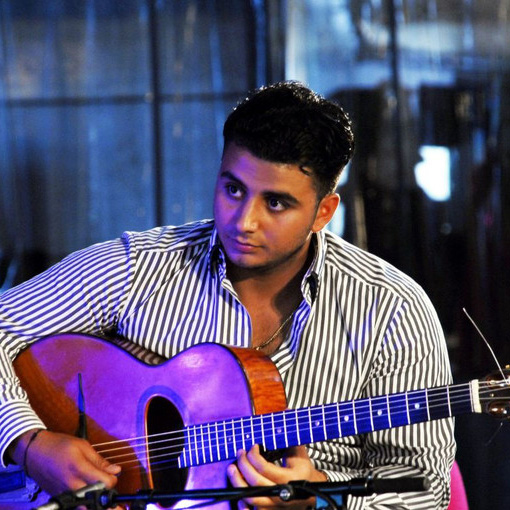 Amati Schmitt (Lead Guitarist) is the young son of the legendary gypsy guitarist Dorado Schmitt. Now 24, he is following in his father's footsteps, quickly becoming one of the young jazz stars of Europe. He performs at festivals and clubs with his father all over Europe, and started coming to the United States a few years ago to be part of the Django Reinhardt Festival at Birdland. In November 2015 he toured for the first time with the Django Festival All-Stars across the United States, appearing at the Hollywood Bowl to standing ovations, a true virtuoso. Schmitt recently appeared at Carnegie Hall's "Forever Django" Concert.
---
ANTONIO LICUSATI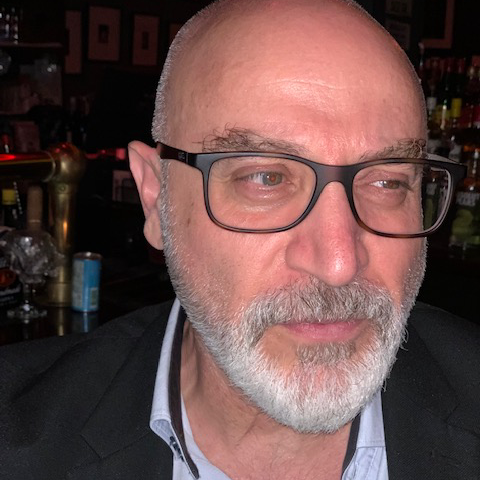 Antonio Licusati (Bassist) was born in Salerno, Italy in 1964. When he was little his grandfather, who used to play in the village's fanfare, transmitted to him his love for the aria of Puccini's and Verdi's operas. From then on, he developed his passion for music. When he turned 13, he started to learn the guitar and then switched to the electric bass. He played rock, blues, and discovered jazz, thanks to the records of Thelonius Monk and Charles Mingus. He also discovered his first music hero: Jaco Pastorius. After that, he started playing the doubleness and dedicated himself to jazz.
He was inspired by many famous bassist: Milt Hinton, Walter Page, Jimmi Blanton, Charles Mingus, Oscar Pettiford, Ray Brown, Paul Chambers, Wilbur Ware, and many others like Scott LaFaro and Eddie Gomez. Mr. Licusati played all kinds of jazz with many musicians, including Enrico Fava, Kenny Wheeler, Paolo Fresu, Massimo Urbani, Gianni Basso, David Murray, Luca Florfes, Stefano DiBattista, Richie Cole and Stefano Bollani.
When he moved to Paris in 1996, he discovered Django Reinhardt's music and played with many great gypsy jazz musicians, including Babik Reinhardt, Dorado Schmitt, Angelo Debarre, Bireli Lagrene, Tchavolo Schmitt, Patrick Saussois, Christian Escoude, Florin Niculescu, Romane. Mr. Licusati has been collaborating with the great gypsy guitar player Angelo Debarre for 15 years and also performs alongside Ludovic Beier in concerts in Europe.
---
DOUDOU CUILLERIER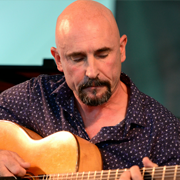 Philippe Cuillerier alias « Doudou » is well known in gypsy jazz style as a unmissable rhythm-guitar sideman for greats artists like Angelo Debarre, Romane, Tchavolo Schmitt, Bireli Lagrene, Babik Reinhardt, Stochelo Rosenberg, Christophe Lartilleux, Latcho Drom, Patrick Saussois, Rodolphe Raffalli for a strong rhythm section. He also has a very good singing voice which spices up the concerts with some raging scat-singing, gypsy or french songs. As an undertaking musician, he also gave lessons during a long time and founded with his old fellow André Venturini the swinging guitar website : l'Echo des Cuillères, (a very well known website for all the afficionados in the world from 1998 to 2004). He participate to the Romane's magazine "French Guitar".
Now, he plays with Ludovic Beier and performed with him at Birdland (Manhattan), playing rhythm guitar and singing for many great musicians, like : Samson Schmitt, Pierre Blanchard, Edmar Castaneda, James Carter, Jane Monheit, Joe Fram, Cyrille Aimé, Peter Beets, and many others.
He performs in France and Europe with his own band "Doudou Swing", creating musical shows , also for children.
---
FRANKO MEHRSTEIN
Franko Mehrstein's (Rhythm Guitarist) father, Sony Reinhardt, taught him the art of rhythmic guitar at the young age of eight. As he matured, his music became more specialized with the help of his uncle Mandino Reinhardt. Proud of his gypsy background, Mr. Mehrstein spent his younger years in the midst of his family of musicians, learning to play during various celebrations and parties. He created his first album alongside Dino Mehrstein, his soloist brother, and the success of their first tour turned him into a professional artist. His inimitable accompaniment has allowed him to reach across borders and he has since toured with Mandino Reinhardt in Colombia and Venezuela. He has played alongside Dorado Schmitt for concerts in the U.S., including the Django Reinhardt Festival, where he was privileged to play at the legendary Birdland Jazz Club.
Mr. Mehrstein is a stable and endearing accompanist who has worked with the biggest names of this genre, including Tchavolo Schmitt, Mandino Reinhardt, May Hubert, Samson Schmitt, Amati Schmitt, Ludovic Beier, Pierre Blanchard, Railo Helmstetter, and Timbo Mehrstein, as well as performing many European tours at various festivals and clubs. Today his talents as both an accompanist and composer are widely recognized.
---
GINO ROMAN
Gino Roman (Bassist) was born in 1983 and started playing music by sitting at a drum set when he was age three; he was hardly six when he began to play rock'n'roll and swing with his father. When he was 15 he began to play electric bass, recommended to him by his cousin, and then turned to the double bass after playing with his trio at age 21. His influences include Jaco Pastorius, Chick Corea, Niels-Henning Orsted Pedersen, and of course, Django. He has been fortunate to play with the greats, including Dorado, Samsn, and Amati Schmitt, as well as Marcel Loeffler, Hono and Bradi Winterstein, Benji and Popots Winterstein, Steve Laffont, Youngui Loeffler, Martin Weiss, Pascal Mission, and many others.
---
About the Producers
---
PAT PHILIPS-STRATTA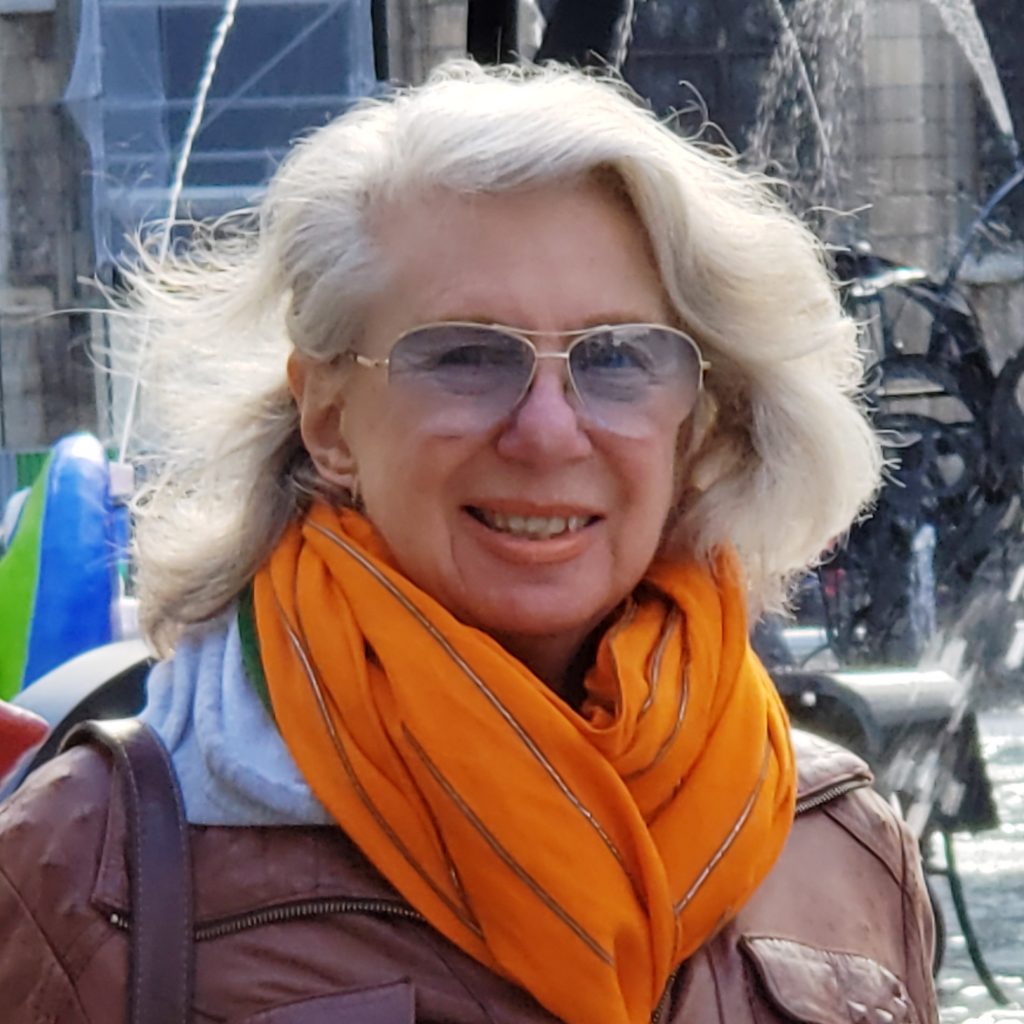 Pat Philips-Stratta produces original concert events. She feels privileged to have worked with so many great artists. Many of her highly acclaimed projects at Carnegie Hall, co-produced with Ettore Stratta—her partner and husband, include the 80th birthday celebration of Stephane Grappelli with Yo-Yo Ma (his first venture outside of classical music), Michel Legrand, Toots Thielemans, Oscar Peterson's Tribute with Hank Jones, Wynton Marsalis, Billy Taylor, Dee Dee Bridgewater, and Clark Terry, among others: Paquito D'Rivera's celebration of "50 Years of Show Business" with greats Cachao, Bebo Valdez, Yo-Yo Ma, Candido, and Dave Samuels, and more.
Other events include:
"50 Years of Flying Home, Illinois Jacquet's 70th," with Ray Charles, Roy Haynes, and Etta Jones "From Harlem to Hollywood," which paid homage to tap legends The Nicholas Brothers, with Lena Horne, Ben Vereen, Maurice Hines, and Savion Glover
"The Magic of Toots" with Herbie Hancock, Eliane Elias, Ivan Lins
"Absolut Vocalese," a tribute to Jon Hendricks with Al Jarreau, The Manhattan Transfer, and Count Basie Orchestra
"Absolute Jobim" with Antonio Carlos Jobim, Gal Costa, Dori Caymmi; and many more Brazilian concerts with Marcos Valle, Roberto Menescal, Carlos Lyra, Leny Andrade, Gilberto Gil, Romero Lubambo, Eliane Elias, and the Jobim family, including Branford Marsalis, Joe Lovano
"George Shearing's 80th" with Dave Brubeck, Billy Taylor, Tito Puente, John Pizzarelli, and Nancy Wilson, and the Orpheus Chamber Orchestra
Opera star Sumi Jo singing broadway songs with orchestral Regina Carter's highly successful concert at Avery Fisher Hall with the Paganini violin (the only jazz artist given that privilege)
"Jose Feliciano with Paul Simon"
"Tango, Passion, and Swing" with Pablo Ziegler, Gary Burton, Joe Lovano, and stars from Buenos Aires; and Tango Magic," which later became a PBS special.
Ms. Philips produced the first jazz series at the South Street Seaport with greats James Moody, Buddy Rich, and a long list of artists as well as started the first jazz series at the 92nd Street Y, "Jazz Alive at the Y," with Benny Goodman, Gerry Mulligan, Lionel Hampton, and Sir Roland Hanna. She also produced a classical event at Carnegie Hall for Opus 118 violin school with Itzhak Perlman, Bobby McFerrin, and Pinchas Zukerman; many projects with the Joffrey Ballet, which involved newly commissioned ballets; "Absolut Concerto" at Lincoln Center with major symphony orchestras and composers John Adams and Christopher Rouse; "The Songwriters Hall of Fame" music industry event with a who's who in the pop world (Tony Bennett, Liza Minnelli, Whitney Houston) and hundreds of performers and composers/lyracists, including Sammy Cahn, Burton Laine, Jule Stein, and Charles Strouse.
Another special project at Carnegie Hall was "30 Years of Merchant Ivory," about the film production company, with music from their films (such as Howard's End), performed by a symphony orchestra with readings by Hugh Grant, Christopher Reeve, Joanne Woodward, Jeanne Moreau, and others.
Ms. Philips always loved the piano and managed top pianist and Grammy winner Roger Kellaway for eight years as well as worked with Harold Mabern, Kenny Barron, and other greats early in her career.
It's been 20 years of developing The Django Reinhardt Festival at Birdland, out of which has come these extraordinary artists on stage tonight, THE DJANGO FESTIVAL ALL-STARS, to whom Ms. Philips devotes a great part of her life. In 2017, Philips co-produced, with Leonardo and George DiCaprio, the "Forever Django" concert at Carnegie Hall.
(Personal video from Jorjana & Roger Kellaway, a gift to Pat)
---
ETTORE STRATA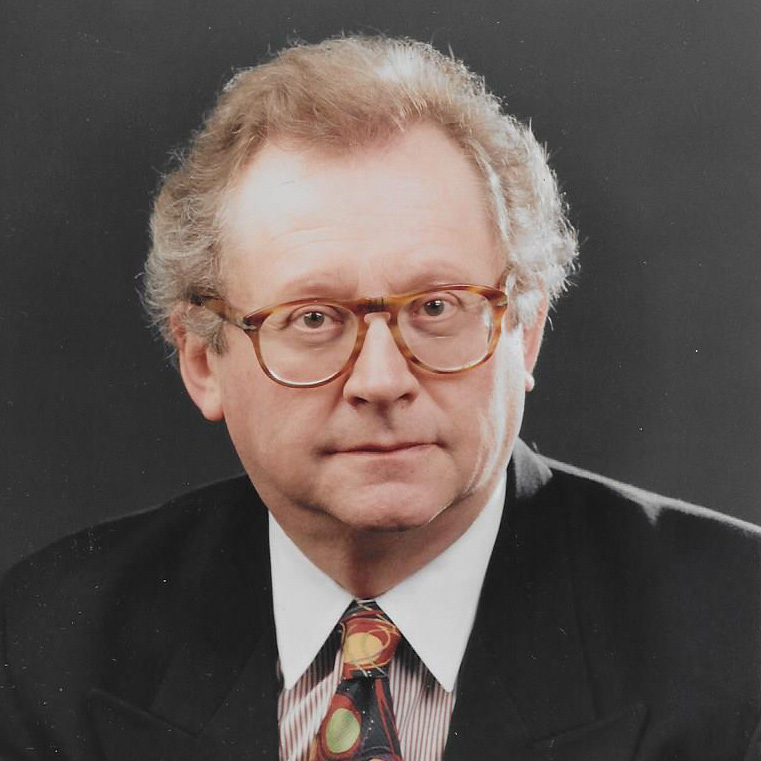 In Memory (d. July 9th 2015)
Maestro Ettore Stratta arrived in America from his small town in northern Italy, Cuneo when he was in his 20's, inspired by America's movie musicals and Jazz. He was a gifted musician from the age of 5, went on to have his own band in Italy, got a hold of smuggled American Jazz recordings during the war and set his sights on the U.S. after seeing a Duke Ellington concert. He studied conducting at the Santa Cecilia Conservatory in Rome as well as piano and composition. One day, Stratta packed up, and headed for New York, then married to Cecile Horner.
Stratta came by boat, landed in New York, boarded at the YMCA, and set forth to land a job. After knocking on Columbia Records' personnel door for a while, he landed a position in the A&R department In 1961, due to his musical talents, knowledge of 5 languages, and an introduction by Nat Shapiro. He worked under legendary head Goddard Lieberson in the golden age of Columbia. Here he worked with and reduced hundreds of recordings including Barbra Streisand (3 gold records), Dave Brubeck, Tony Bennett, Andy Williams, Duke Ellington, Johnny Mathis, Miles Davis, Steve and Eydie, and international artists such as Mini Rosso, Franck Pourcel, Joe Dassin, Andre Gagnon, and many others. He traveled throughout the world producing recordings of "Fiddler on the Roof," "The King and I," "My Fair Lady" (in Hebrew) and many more. He became the head of Columbia International in 1964, always the ultimate music man. Maetsro Stratta had his own orchestra called "Fantasy Strings" with over 25 recordings of some of the greatest compositions in the Great American Songbook.
As "The Pioneer of Crossover," he created "Switched on Bach" (for CBS) and then went out on his own and produced historic crossover recordings, which he also conducted: "Symphonic Tango," "Symphonic Bossa Nova," "Symphonic Boleros" Teldec with The Royal Philharmonic Symphony Orchestra, with arrangement by Jorge Calandrelli, featuring such top artists as Al Jarreau, Dori Caymni, Hubert Laws, Paquito D'Rivera—Stratta skilled at choosing the perfect repertoire for these artists. Maestro Stratta conducted for the London Symphony, Melbourne Symphony, Adelaide Symphony Orchestra, St. Lukes Symphony Orchestra, Rome Philharmonic, Sao Paulo Symphony, Atlanta Symphony Orchestra, Quebec Symphony Orchestra, and L'Orchestra de Lille in France for George Duke (performance at (Montreaux), and many others.
Other masterpieces were created with Stars of the Met, Placido Domingo, Jose Cura (Broadway with orchestra), Sumi Jo (Broadway with orchestra, which sold over a million copies), Eddie Daniels' "Breakthrough" (GRP), Emmanuel Ax with Pablo Ziegler (Sony), Yo-Yo Ma and Stephane Grappelli (Sony—Yo-Yo's first recording venture outside of Classical music). Other greats were Chanticleer with orchestra, Norwegian star Sissel with symphony orchestra, Justino Diaz singing Mozart aria with the English Chamber Orchestra, and Vivaldi's Four Seasons. For CBS Masterworks, Mr. Stratta conducted the London Symphony Orchestra in the sensational recording "Music From The Galaxies" featuring themes from the best modern science fiction motion pictures (Star Wars, Alien, Star Trek, etc.). He conducted Benjamin Britten's "Scottish Ballad for Two Pianos and Orchestra." Stratta also fought for and was awarded in the Classical Crossover category for the Grammy's, and served as a trustee and governor in the Grammy's organization for many years.
Other recordings and conducting were with Tony Bennett "The Art of Excellence," Lena Horn's "The Men in My Life" (which included Sammy Davis Jr. and Joe Williams), Cleo Laine, Diahann Carroll, Maureen McGovern, Norwegian star Sissel, Dave Grusin, Julio Iglesias, Ray Charles, Linda Eder, Claus Ogerman with Jean-Yves Thibaudet, Hank Jones, Chaka Kahn, Dick Hyman, Nancy Wilson, Ramsey Lewis, Toots Thielemans, Dionne Warwick, Sir Roland Hanna, Judy Garland, Regina Carter, and so many more. Maestro Stratta, the ultimate renaissance music man, conducted for Mechel Legrand for 10 years, and Stephane Grappelli for 25 years.
Ettore Stratta composed many pieces of music, notably "Forget The Woman" recorded by Tony Bennett, which has become a part of the Great American Songbook, and "Pages of Life" for a film, in which Stephane Grappelli performed it.
In 1986, Maestro Stratta was nominated for the Wavendon Allmusic Awards in London for "Conductor of the Year" alongside Leonard Bernstein and Andre Previn. He won first prize at the Castlebar International Festival for the Instrumental Composition Award for his work "Tempus Fugit" and has received 3 Grammy nominations. He was musical director in England for major concerts in London at the Barclay Center with Gregory Hines, Nancy Wilson, Stephane Grappelli, Vic Damone, Michel Legrand, Rita Coolidge and others.
In 1988, Ettore Stratta partnered with producer Pat Philips, forming Stratta Philips Productions. While he was still producing recordings, Stratta and Philips went on to present over 100 major musical concerts at Carnegie Hall, Avery Fisher Hall, Rose Hall, and other prestigious venues around the US. These concerts include: paying tribute to Stephane Grappelli upon his 8oth birthday (at Carnegie Hall); George Shearing's 80th birthday; Toot's Thielemans' 80th birthday, Paquito D'Rivera's 50 years in the music business; Oscar Peterson Tribute; Nicholas Brothers tribute; Antonio Carlos Jobim's last major concert, plus a series of Brazilian music projects called "All Jobim and More (of which, Bernard Holland of the NY Times wrote "the music of Jobim… gives hope that taste, simplicity, and lyrical invention may yet survive."). Roger Kellaway served as musical director, as well as a performer for many of these major concerts.
Ettore Stratta married partner Pat Philips in 1998.
Due to the maestro's classical background, they created "Absolut Concerto" at Avery Fisher Hall (with the support of Michel Roux, then head of Absolut Vodka), with major symphony orchestras such as St. Lukes Symphony, The New Jersey Symphony and others. He commissioned composers on the rise such as John Adams, Christopher Rouse and Alan Jay Kernis, who have gone on to have prestigious careers as composers, some receiving the Pulitzer Prize. Ettore Stratta, along with his partner Pat Philips-Stratta, had also been producing the successful Django Reinhardt Festival and tours.
Maestro Stratta's musical knowledge brought together many well-known musicians from jazz to classical to pop, to create extraordinary music that was original and musically brilliant. His music will live on forever. He was a truly dedicated musician.
Ettore Stratta was a class act in all ways: a beloved man by his peers for his integrity, charm, warm personality, humor, with talent and a humble spirit. In his loving family, he leaves behind his wife Pat Philips-Stratta, his sons Paul and Luca, stepsons Brad and Evan, three daughter-in-laws Carla, Radia, Ashley, and 5 grandchildren Manuka, Isabella, Sophie, Luka, Rianne, brother Adalberto, brother-in-law Jeff Coleman and wife Carole.